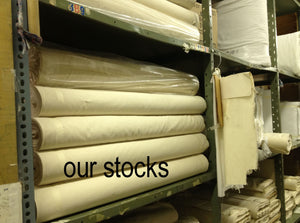 Unbleached Cotton Muslin 63" x 5 yards

The 63" roll of cotton muslin is double folded on the roll; hence it is convenient and easy to use. Our organic muslin is made of 100% cotton, is unbleached, and is also very eco friendly. This unbleached cotton muslin is perfect for making up clothing designs, as it is inexpensive yet gives the feel of an expensive fabric.
This muslin is perfect for making dresses/clothes and costumes, due to its softness and breathable nature. This is why, muslin clothes are excellent for wearing on a hot day. This fabric can also be used for theater backdrops and scenery as it takes paint extremely well and can be cut or dyed very easily.
The unbleached cotton is a great cost effective fabric to use at schools for sewing classes. Crafters make great use of unbleached muslin, to make dolls, stuffed animals and more. They can be decorated with almost any form of color application. A lesser known, but still useful function of muslin is as a filter. Most commonly, it is used to filter the sediment from wines.
Our fabric has a thread size of 20x20, and a thread count of 60x60, 4.0 oz/square yard. This product ships in quantities of 30 meters. This product is also available by the yard. This muslin is NOT pre-shrunk. Please allow for approximately 5- 7% shrinkage length and width.