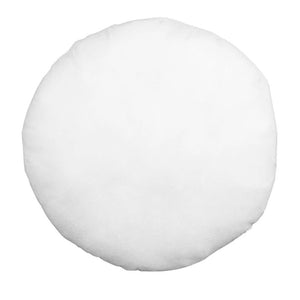 Pillow Forms / Cushion Inserts
These days, it‰۪s difficult to come by Canadian-manufactured products. At HomeTex.ca, we manufacture all of our polyester filled products on this site. Our 24" round pillow forms (also referred to as cushion inserts) are made here in our factory.
Each cushion-filler is stuffed with all-new 100% polyester. We do not use recycled or used fibers. The inserts are handmade and filled with high quality materials, ensuring you top quality. Other names for pillow forms include: cushion inserts, pillow fillers, cushion stuffers, pillow inserts and throw inserts. Many names, one simple product.
Pillow Form Quality
We take great pride in the quality of our pillow forms and make an effort to maintain our high production standards.
HomeTex's Total Quality Manufacturing(TQM) process is designed to minimize flaws and provide a consistent product. Each cushion insert/pillow form is weighed before being packed and shipped. Any product that fails to meet its optimal fill-weight is fixed on the spot by our production team. Our foreman supervises the production process to ensure all our quality controls are being adhered to.
What Size Pillow Form?
Generally speaking, you should order the same size insert or 1" bigger. To read our full write-up on the subject please visit
our article: What size pillow form do I need? Our pillow forms are by default stuffed with a generous amount of stuffing which ensures that your cushion covers will be fully filled out. Other manufacturers may skimp on the fill weight to reduce costs - we do not. If you cannot find the size you require, we can custom-make just about any size imaginable thanks to our on-site cutting & sewing capabilities.

Canadian Customer Service
We are a Canadian factory with high quality, exceptional customer service and low, factory pricing. We pride ourselves on our excellent customer service and our commitment to answer all phone calls and respond to all emails in a timely manner.