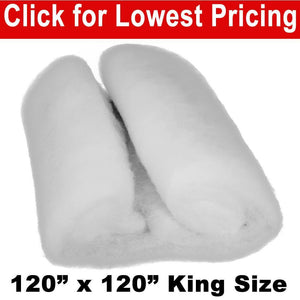 Size 120" x 120" quilt batting
Our Craft & Quilt Batting is made of 100 % bonded non-recycled white polyester. It is seamless, which makes it very simple and easy to work with. Other features include; Uniform thickness ‰ÛÒ 2 oz. / sq yd. Approx. ½" thick, its naturally soft texture, hypoallergenic, mildew proof and retains fullness, it is machine Washable and is easy to quilt by machine or hand.Quilt and craft batting ISO9001 certified made in Canada 100% polyester
this item is also available in bulk by the case for bigger savings


Batting is a very versatile product that can be used for many different applications. You can also use batting to simulate snow for a holiday scene. It can be used as insulation for DIY pot holders. Batting can also be used for filtration. Its incredibly soft and warm texture make it the perfect material to use for a baby blanket or as quilting for your bed. We carry Batting in 5 sizes.

åÊ






our quilt batting is processed in our factory







folding packaging labelling is all on site




åÊ







2 oz per square yard quilt batting







private label program for retailers of quilt batting