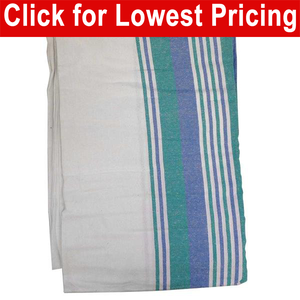 Twin/Double Flannel Blanket (72"x90")
Our flannel blanket can be used alone or between a topsheet and duvet for an extra layer of warmth. The twin/double size flannel blanket is perfect to take around with you anywhere. Our 80% cotton, 20% polyester flannel is tightly woven to keep it soft and lock in heat to keep you moderately warm. Feel free to wash it as much as you want without fear of compromising the soft feel, this is made possible because or its heavy napping design.

Specifications

At a light weight or 2.2 lbs it is easy to take it wherever you want (dormitories, camp, home). Sized comfortably at 72"x90" and with a popular look of white with blue and gren stripes, it is perfect for anyone. A close up of the material is shown to the right.
Common Uses
The 2.2lb light weight of the flannel blanket makes it an ideal item to take with you when your camping. Cozy up by the fire and keep warm. Take it to your college dorm and have light weight portable blanket or keep it with you when you're on a road trip. Also great to use as a hospital blanket.