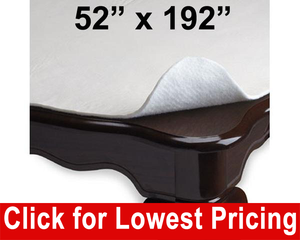 Deluxe Table Pad and Protector 52" x 192"
Our heavy gauge Vinyl Table Pads are made with a super-durable Vinyl cover and soft but sturdy polyester felt backing, serged on all sides for extra strength. This table protector will protect your table from every day mishaps such as spills, heat damage/warping
scratches, nicks, cracks and minor abrasions. The non-slip backing keeps your tablecloth in one place and helps it sit better. This table pad features a light floral design and is easily cleanable with a damp cloth. This product is also sound absorbing, to help muffle the clatter while enjoying your meal.