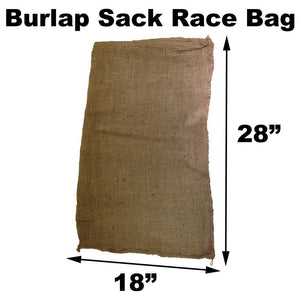 Burlap Bags for Sack Races 18" x 28" (10 Pack)

Our Burlap Sacks are great for sack races. Sack races offer a good workout, and are a great source of entertainment for kids and adults at camp and parties. Our Burlap sacks are made from 100% natural jute fiber. We offer two sizes. The 18"x28" are 7 oz and are a perfect fit for kids. Our 24"x40"are 10 oz and will fit most adults. They will last for many uses. Burlap is a natural fabric and will have a slight scent to it. These can be aired out in the sun for a while to reduce the scent. Due to burlap's uneven nature, each bag will be unique and different, with some having slightly tighter weaves and others having slightly looser weaves, however the durability is guaranteed. These burlap sacks are also great to use for sandbags.
Burlap material is made from twisted natural jute fibers. Burlap fibers are 100% organic and therefore contain natural blemishes and creases. Jute fiber has a very rough texture to it, and this is why burlap fabric is typically rough and uneven. Burlap fabric also tends to shed little bits of jute strands, as well as comes with a very distinct odor.
Burlap fabric and burlap finished goods have a wide array of applications. Burlap is most commonly used as beautiful rustic décor for home and events, as well as in the garden. Lay burlap over your seeds to help them germinate, or wrap trees and plants to protect them from the winter frost. . Important note: when you iron out creases, please place a fabric sheet between the iron and the burlap.