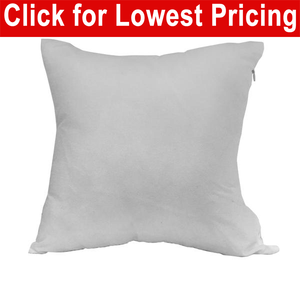 Recommended Settings:

  60 Seconds @ 205 C (400 F) on medium pressure.
Recommended insert size:
  20" x 20" for a full, firm pillow | 19" x 19" for a softer pillow

Say hello to fully printable pillow covers! These pillow cases are made of 100% polyester that will not shrink under the heat press. Polyester is one of the leading synthetic fibers for sublimation, since it soaks up the dyes and inks very eagerly, leaving you with a beautifully vivid and crisp image transfer. The possibilities are as endless as your imagination, as these pillows are capable or being printed not only in black and white, but full color as well. The recommended settings for sublimation are 205 degrees Celsius (400 degrees Fahrenheit) for 60 seconds on medium pressure. These covers can also be used for heat transfer vinyl on a lower heat setting and less press time. These covers are machine washable and feature a hidden zipper for easy insertion and removal of the pillow insert. These cases are 18" x 18" and we recommend a 19" x 19" insert for a nice plump pillow. Made in China.