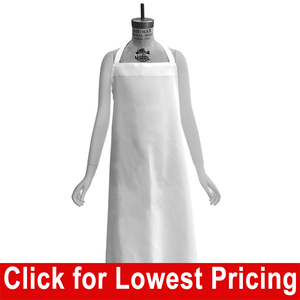 Our white aprons are made of 100% spun polyester and look and feel just like cotton. These aprons are very durable, and are industrial quality. They are bleach resistant, fade resistant, and absorbent. These aprons are excellent for sublimation. These aprons take heat transfer vinyl very well. Press less time at a lower heat for beautiful vinyl transfers. They feature precision stitching and lengthy sewn on ties for your comfort. The aprons measure 34" x 32" with a 36" waistband and 24" neck strap. One size fits all. Recommended sublimation settings 60-65 seconds at 200-204 degrees Celsius (392-400 Fahrenheit). For Heat Transfer Vinyl reduce the heat and the time.

100% spun polyester 215g/m2
Looks and feels like cotton
Excellent colour retention
Great for heat transfer vinyl

No pilling and highly absorbent
Great for sublimation: 392-400F for 60-65 seconds
Durablilty of polyester - will not fade
Recommended aprons for industrial and laundry use 650c.