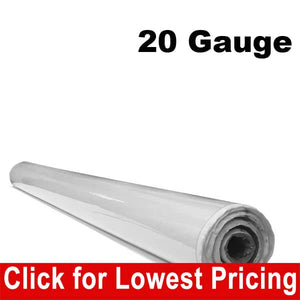 - 20 Gauge =  0.020 inches thick. 54" x 15 yards
- Double Polished for hyper clarity and superb transparency
- Easy to cut and sew
- Marine Grade, Waterproof, shatter-proof and heat resistant. Cold crack of -10 degrees Celsius (14 degrees Fahrenheit). UV and Fire Resistant.
- Comes with paper interleaf to prevent scratching and sticking
- Great for Indoor and Outdoor applications, winterization, boat window, porch window, greenhouse windows and table cover and more.

Our clear vinyl is double polished into a super smooth and crystal-clear transparency material that is perfect for many applications, both indoor and outdoor. This grade of vinyl is suggested for marine use. This material is durable yet pliable, shatter-proof and heat resistant with a cold crack of -10 degrees Celsius (14 degrees Fahrenheit. This makes our vinyl great for marine use, as well as winterization applications such as boat windows, storm windows, porch enclosures, greenhouses, and tents. The waterproof nature combined with the resistance to cold temperatures offers excellent protection from leaks and drafts during those brutal winter storms. Our vinyl has been treated to be waterproof as well as mold and mildew resistant. This makes it a wonderful solution for shower curtains and tablecloths to protect from food, spills and craft tables from mess. The workability of our vinyl lends itself to DIY projects. You can use this vinyl to make bag liners, wallet ID pockets, tag and labels holders on bags, suitcases and storage bins. Our vinyl is very easy to cut, both with scissors and utility knife, and can be easily sewn using a standard sewing machine. Our vinyl is durable, yet smooth and pliable, and can be sewn together with other fabrics. For outdoor use, we suggest using bonded nylon thread for its durability and weather resistance.   Additional uses include: protecting furniture from scratches or stains from children and pets, and protecting items in the garage or basement from collecting dust. Our vinyl is very easy to clean: simply wipe it with a damp cloth. All of our clear vinyl comes on a roll with paper interleaf in between the layers to prevent scratching and sticking. The thickness of this vinyl is 0.020 inches.
Material: 100% non recycled Vinyl
Width: 54"
Thickness: 0.020" / 0.50mm (±5%)
Roll length: 15 yards
Cold Crack: -10 C / 14 F
Quality: Double Polished Clear