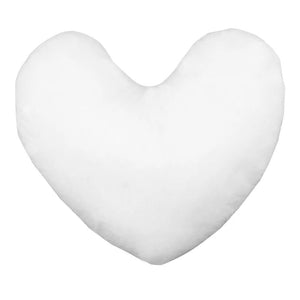 Heart Shaped Pillow

Our heart shaped pillows are made in our factory in Canada. They are made with 100% white polypropylene shells and they are stuffed with hypoallergenic (allergy free) pure non-recycled polyester stuffing. Each hand made pillow is individually cut to the specified size which is measured as a shell (shown in the image to the right). We only use top quality materials to ensure a real Canadian made quality product. This product is only the insert, cover sold separately.
Common Uses
A heart shaped pillow makes a great gift, whether it's valentines day or a birthday show your loved ones you care with a heart shaped pillow. They are great for craft projects to make your own heart shaped pillow covers. Customize your pillow to bear a ring at a wedding.
åÊ
What Size Heart Shaped Pillow Form?
Generally speaking, you should order the same size insert or 1" bigger to fit your pillow cover. Our heart pillows are filled with just the right amount of stuffing. If you can't find the size you need, we can custom make just about any size imaginable thanks to our on-site cutting, stuffing & sewing capabilities.
Canadian Customer Service
We are a Canadian factory with high quality, exceptional customer service and low, factory pricing. We pride ourselves on our excellent customer service and our commitment to answer all phone calls and respond to all emails in a timely manner. You can also click the green chat button on the left during regular business hours to chat live with one of our staff members. We are a small business, so we are happy to help all of our customers, from small to big.